Posted on | February 21, 2010 | 2 Comments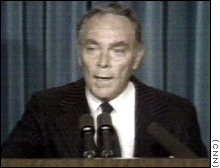 Alexander Haig died yesterday, probably overcome by years of government sclerosis.
It's amusing that Haig will always be ridiculed as the guy who, as secretary of state, claimed "I am in control here" when President Reagan was hospitalized just after he was shot in downtown Washington. Â Haig wasn't legally in the line of succession (a former staunch segregationist was). He was, however, trying to control a chaotic situation.
He did the same thing in the waning days of the Nixon White House, when he was chief of staff.
As The New York Times pointed out in its obit today:
All this, in the course of a few weeks in the fall of 1973, fell on Mr. Haig's head:
Vice President Spiro T. Agnew pleaded no contest to taking bribes. The next man in line under the Constitution, House Speaker Carl Albert, was being treated for alcoholism. The president himself, by some accounts, was drinking heavily. War broke out in the Middle East. When the president tried to fire the Watergate special prosecutor, Archibald Cox, rather than surrender his secret White House tapes, the attorney general, Elliot L. Richardson, and his deputy, William D. Ruckelshaus, resigned. Impeachment loomed.
Today, we have a president who defers to Congress; a Congress that creates "bipartisan" commissions to tackle the problems Congress is supposed to tackle. California, the seventh-largest economy in the world, is literally paralyzed by indecision. Things aren't likely to get better. A woman who ran eBay but never really voted is dumping her millions into the race for governor; she talks of solving the state's problems as if it is as easy as putting in a bid on eBay.
Tom Friedman, for whom hyperventilating is not an uncommon response, opines today that the fat lady has sung for the United States. Our country is run by cartoon characters.
Haig was a bit of a scary dude, but he — and many others of his generation — were unafraid to confront problems and try to solve them.
Comments