Posted on | October 31, 2007 | No Comments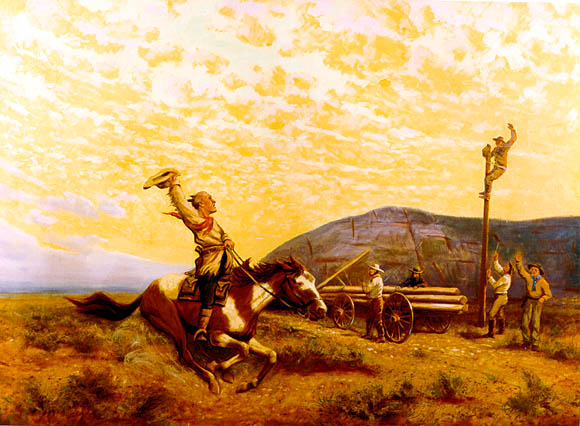 I've been so friggin' busy the last few days that I've gone into posting drought and missed a key historical date. Last Friday, Oct. 26, was the anniversary of the last day the Pony Express operated in the West. The legendary service stopped in 1861, just two days after the eastward and westward construction of the transcontinental telegraph met at Salt Lake City.
What's always gotten me is how storied a communications vehicle became that operated for only 18 months. Don't you just wish you were a kid back then?
WANTED
Young, skinny, wiry fellows, not over 18.
Must be expert riders, willing to risk death daily.
Orphans preferred. Wages $25 a week
In any case, it certainly has relevance today. New-media technologies pop up faster than weeds, and there's an army of bloggers out there embracing,writing and hyperventilating about them; little analysis of the potential; lots of bad adjectives heaped on the cool factor. Hey, I admit to feeling that way myself.
Mindmeister
was one such technology
I heard about
at Web 2.0 this spring. Haven't looked at it until now, even though I signed up. If you read
Steve Rubel
and others, they're all over new technologies for a nano-second and then on to the next thing. So the informational popcorn has a certain value, but there's little analysis. It leaves us all feeling so very…. empty.
As with so much of technology development, these offerings come and go. Some will morph into something useful that their creators never envisioned. But most will end up having little value –certainly less than the short-lived Pony Express. And they certainly won't live on in the history books the way the express riders have.
Comments